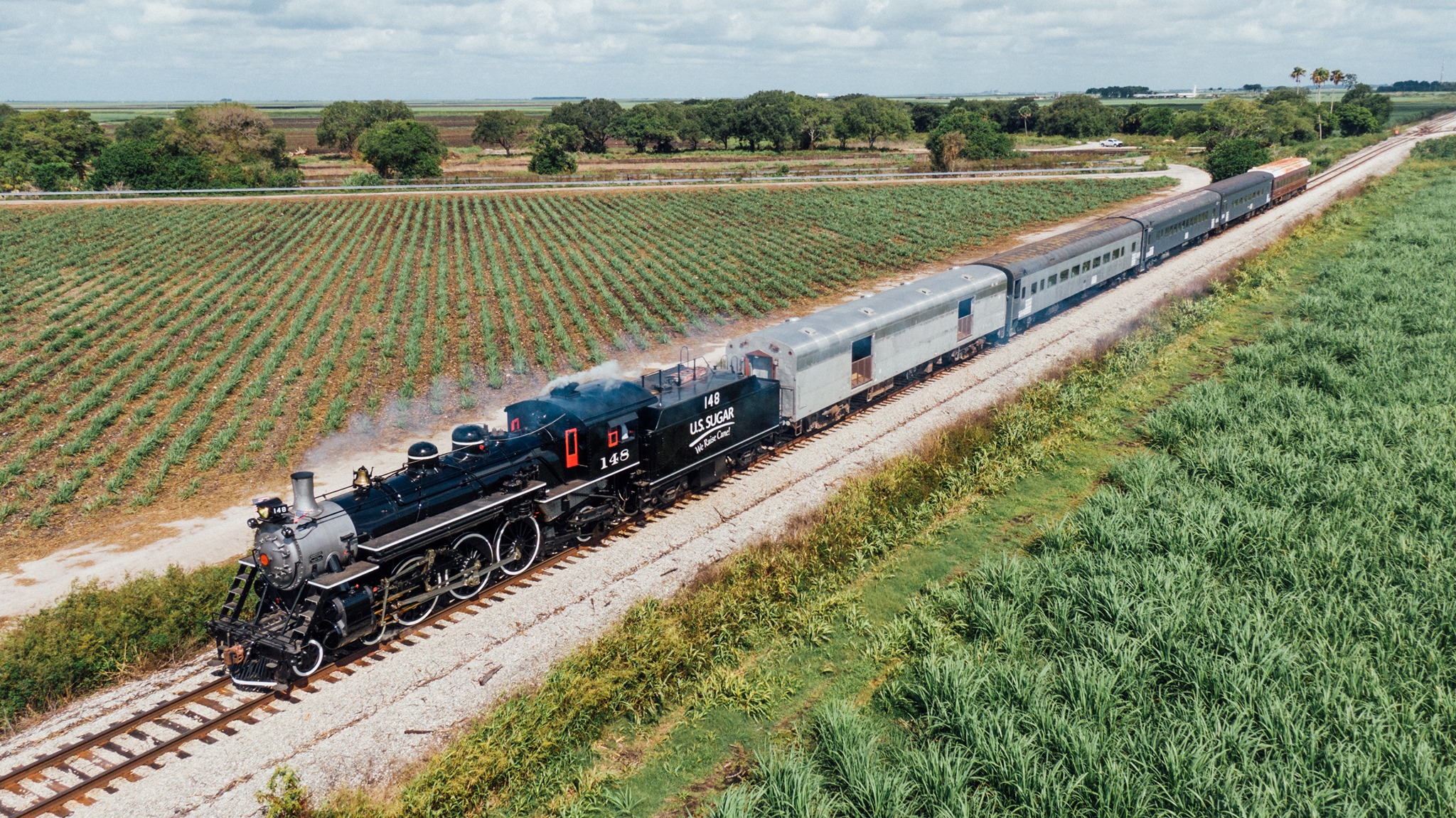 CLEWISTON, FLORIDA – Sugar Express has acquired three vintage railroad passenger cars from the United Railway Historical Society of New Jersey for use behind recently restored U.S. Sugar steam locomotive no. 148. These are the first passenger coaches acquired by Sugar Express.
"We are excited about acquiring these high capacity coaches for use with our new operation, and they will be an excellent addition to our heritage fleet," explained Sugar Express Operations Manager Scott Ogle. "Our mechanical team has begun overhauling the cars to upgrade air conditioning and repair mechanical systems to meet the needs of our unique operating climate."
All three passenger cars were built in the 1950s and were used by the Great Northern Railway, though one spent its earliest years on the Union Pacific Railroad. They were acquired by the Central Railroad of New Jersey in the early 1970s, after which they were converted into high-capacity commuter coaches. In the early 1990s, they were transferred to the United Railroad Historical Society of New Jersey ("URHS"), which recently sold them to Sugar Express.
"When we listed the three coaches for sale, we knew that we wanted them to go to a good home. We are thrilled that the Sugar Express will be providing a secure future for these cars," explained Kevin Phalon, President of the URHS. "The proceeds from this sale will support the preservation of other artifacts in our collection that need attention. We look forward to having the chance again to ride in these cars behind No. 148, which spent a few years operating in New Jersey back in the 1970s."
Sugar Express plans to begin overhauling one car at a time, with the eventual goal of returning all three to operational condition.
In arranging for the shipment of these three coaches, Sugar Express also established a new railroad reporting mark, a four-letter "code" used by all private equipment owners to identify their equipment. These cars are now listed under the mark "CHOX" – a nod to the molecular formula of sucrose – or sugar – which is C12H22O11.
For more information on Sugar Express, click here for updates or visit facebook.com/sugarexpressfl.